Sarkodie has revealed that Yvonne Nelson attempted to set him up a few weeks ago by setting up a meeting between them at her home.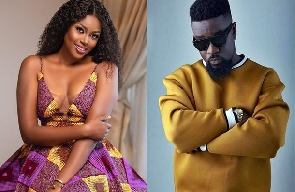 He revealed this in his most recent song, which was written in response to the claims made in Yvonne Nelson's book.
After acknowledging in his song "Try Me" that he and Yvonne Nelson had a romantic relationship, Sarkodie also revealed that the actress ended things with him after problems arose when she attempted to abort their child.
The rapper said in the aforementioned song that Yvonne Nelson had many affairs with other guys while they were dating, which made him untrustworthy of her and led him to stay away from her.
The actress, who is still wounded and resentful 13 years after their romance ended, reached out to Sarkodie a few weeks ago seeking closure, he has said.
Uncertain of the circumstances surrounding their encounter, Sarkodie claimed he believed Yvonne, who was hurt, intended to set him up.
"You tried to set me up again a few weeks ago. You purposefully messaged me on WhatsApp saying that you're still in pain. But because I know you, I kind of guessed what you were planning. I suggested that we meet so that you could explain, according to the song's words.
The rapper said Yvonne insisted they meet at his residence even though he had booked a public location because she had something in mind.