Due to the incredible achievements they have made in their careers, Cristiano Ronaldo and Lionel Messi are regarded as the best players of the twenty-first century and among the greatest players of all time.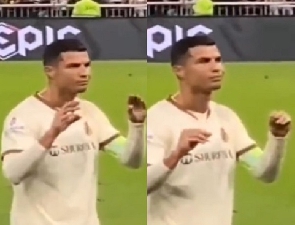 They have been in a head-to-head competition to see who is the better, and this has led to a worldwide cult among football fans and celebrities.
Rival fans often make fun of each other's players during terrible games to annoy them. Ronaldo experienced this during Al-1-0 Nassr's loss to rivals Al-Ittihad on March 9, 2023.
Ronaldo was seen agitated and upset as he departed the field after Al-Ittihad fans yelled Messi's name in a video obtained by GhanaWeb Sports.
Although their team was in the lead, Ittihad supporters yelled Messi's name, which enraged the Portuguese and caused him to do the keep-talking motion.
The crowd continued to shout after Nassr lost the game 1-0 as Ronaldo aggressively kicked a bottle near the pitch as he left the field.
After the loss, the legendary Real Madrid player and five-time Ballon d'Or winner voiced his disappointment but thanked the Nassr supporters for their support.
"We're disappointed by the outcome, but we're still committed to our season and the games that lie ahead.
We appreciate your support, Al Nassr fans—we know we can rely on you!"
Other stories