Following Morocco's withdrawal from the 2023 Championship of African Nations competition, the Confederation of African Football (CAF) has revealed the qualifying format for Group C.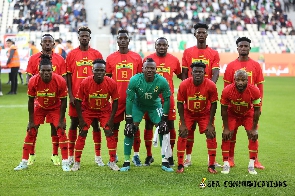 According to a statement from CAF obtained by GhanaWeb Sports, the group consists of three nations, with the top two moving on to the knockout round.
The first two teams in Group C will advance to the knockout stages, according to a decision made by the committee.
On Sunday, January 15, 2022, Morocco did not show up for their opening match against Sudan.
The event has been reported to the appropriate judicial authorities, according to CAF's statement.
The organising committee reported Morocco's absence from the scheduled match against Sudan yesterday to the appropriate judicial entity.
In a statement issued on January 12, 2023, the Royal Moroccan Football Federation (FMRF) declared their exit from the contest.