For refusing to recognize Dr. Koduah Sarpong, a former top executive of the Ghana National Petroleum Corporation (GNPC), as the paramount chief of Offinso, the Ashyirem Royal Gate has criticized Asantehene Ottumfuo Osei Tutu II.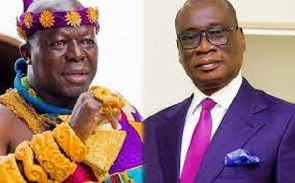 Even though Dr. K. K. Sarpong is the nominee of the people of Offinso, the Royal Gate accused the Asantehene of using every available means to thwart his nomination in a news release that GhanaWeb was able to view.
The organization also said that Otumfuo made regrettable remarks during a meeting at the Manhyia Palace when he rejected Dr. Sarpong's nomination.
"It is important to note that Otumfuo's pronouncements at some of the Asanteman Council sittings on the Offinso Stool Affairs are regrettable. There have been unsubstantiated allegations, among others, all in a bid to justify a course of action he wants to take. Recounting these here can be very embarrassing, to say the least.
It is reasonable to draw the conclusion that Otumfuo is making every effort to obstruct Dr. K. K. Sarpong's nomination. However, we believe that the Overlord of Asanteman ought to be impartial and fair to the Offinsoman and the Ashyirem Royal family. The truth is that, given our reverence for Otumfuo, it would have been impolite to question his statements while he was in office. Parts of the statement stated, "However, it is only right that very evident errors which undermine the rights of the Ashyirem royals, including Dr. K. K. Sarpong, ought to be corrected."
Additionally, the group accused the Asantehene of adopting coercive measures to subjugate K.K. Sarpong, the Offinsohemaa, and the Offinso kingmakers.