Archbishop Charles Agyinasare, the founder of Perez Chapel International, has come under fire from guardians of the Nogokpo shrine for his disparaging remarks against the Nogokpo people and their god.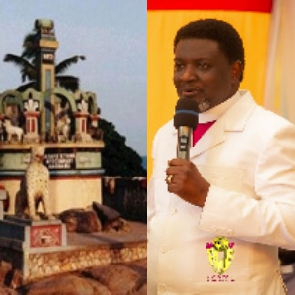 In a recent sermon, Agyinasare referred to Nogokpo as the "demonic headquarters" of the Volta Region because of an accident he saw there, according to a news article by asaaseradio.com.
"During this crusade in Aflao, we slept at Agbozume and you had to go through Nogokpo, and it's the demonic headquarters in the Volta Region, we only have not said it," claimed Agyinasare.
When we were traveling from Aflao to Agbozume on the second night, Agyinasare remarked, "I forced Bishop Yaw Adu to talk about witchcraft, and we shamed the witches and wizard, and as soon as we got to Nogokpo, Bishop Adu's tyre came out of his four-wheel drive (vehicle).
The Nogokpo shrine responded to this in a Facebook post published on Thursday, May 25, 2023, and cautioned the cleric from making disparaging remarks about their faith.