Kwame Sefa Kayi, the host of Peace FM's morning show, Kokrokoo, is claiming ignorance over the reasons that compelled the National Democratic Congress to boycott his show.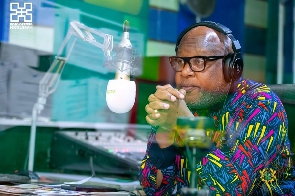 Two years and three months after the boycott by the NDC, the General Secretary of the party, Johnson Asiedu Nketia made an appearance on the show on Friday, August 12, 2022.
Kwame Sefa Kayi, after allowing Asiedu Nketia explain the party's resistance to the new move by the Electoral Commission to have the Ghana Card as the only source document for the 2024 election, sought confirmation from Asiedu Nketia if his appearance marks the end of the boycott.
But the NDC General Secretary urged Sefa Kayi to come to the party's office so that they put some finality to the issues.
Sefa Kayi however quizzed why the NDC would not rather come to his office since they already have had some engagements on the impasse.
Asiedu Nketia attempted to remind Sefa Kayi that it is the party that is the one holding the cards and not the other way round.