The Ghana Police Service has issued a warrant for the arrest of Kwame Ato Asare Ani for his involvement in a viral video in which police officers who are allegedly engaged in galamsey are threatened. Ani talked from a hiding place.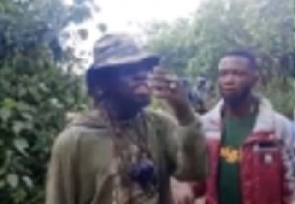 Asare Ani asserted that he was a police informant and not an armed robber, contrary to what a police statement claimed, during an appearance on Kevin Taylor's Loud Silence TV program on April 2, 2023.
When asked why, as an informant, he felt the police were chasing him, he responded that their disagreement stemmed from money he had obtained on their behalf but refused to return.
He said that the sum was GH $100,000 (one billion old cedis), which he had obtained from some illicit miners and given to the police.
"The police are actually chasing me because I refused to give them the one billion Ghana cedis (GH 100,000.00) they instructed me to collect at a site in Kwakukrom. They are upset with me because of this, "said he.
He gave the following justification for keeping the cash: "I didn't surrender the money because I felt duped after working with them for so long. Every time, they would simply give me a few thousand or two thousand dollars.
"They're calling me a thief because I took $1 billion from them but didn't deliver it to them. But, nobody can show that I have ever robbed a person's site, so I am not an armed thief. Before they will return my car and other machines that they have confiscated, Sarfo (Axim Police Commander) urged me to bring the one billion," he stated.
On Sunday, April 2, 2023, GhanaWeb reported on a popular video that purportedly shows the gang's alleged leader.