Kennedy Agyapong, a candidate for the New Patriotic Party (NPPflagbearer )'s position, claims that research indicates he would triumph in the party's upcoming primaries as well as the general election of 2024.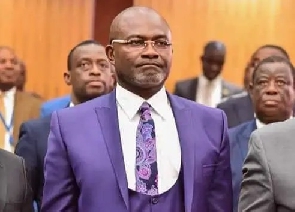 Kennedy Agyapong asserts that he is the best candidate the NPP could have since he is aware of the needs and hardships of the organization's base and has solutions for Ghana's issues.
The Assin Central MP, however, asserted that some party members are using money to sway delegates away from voting for him because they are aware of his strong chances of winning the NPP's flagbearer nomination in the upcoming primary elections.
"Listen, every time they do a survey, the findings will show that Hon. Kennedy Agyapong will win both the primaries and the general elections. However, we won't allow him win since he is unpredictable; instead, we will use money to influence the outcome.
"Unfortunately, they have the mentality that because you are poor, they assume you are illiterate.
So they will only come and give you money and matches at election times to sway your decision to vote for them again, right?
"If you support him and he wins, it is like a lit candle when the light is off; the instant the light is on, he shuts it off, and you return to poverty for four years."
The Assin Central Member of Parliament further asked delegates to exercise caution in their voting choices so that they can select a candidate who is aware of their difficulties and challenges while addressing some party supporters in the Greater Accra area at Ayawaso East.
He continued by advising them to take any donations from rival candidates but not to support them.