According to reports, all of the New Patriotic Party's (NPP) flagbearer contenders have put an end to their campaigns in order to travel to Accra, Ghana, today, July 20, 2023, for an important meeting.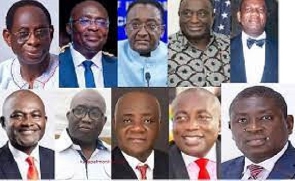 According to a report by UTV, one of the major decisions that would be taken at the meeting, which would be with the party's National Council, is whether or not to centralise the upcoming supper delegate congress scheduled for August 2023.
Nine out of the ten NPP presidential candidates, according to UTV broadcaster Adakabri Frimpong Manso, want the congress to be conducted in a central place, but one of them, who is supported by the government, wants the congress to be held at various locations, depending on the region.
He said that the 16 regions would host the congress at the request of the party's steering committee and President Nana Addo Dankwa Akufo-Addo.
According to Frimpong Manso, the committee has the backing of the regional party chairmen and would urge that voting for the super delegate congress take place at the regional level during the conference.
He added that the nine flag-bearer candidates had threatened to drop out of the presidential contest in response to the parts National Council's decision to allow the congress to be held at regional levels.
They contend that having the congress in a regional location would make it possible to intimidate the party's delegates.
On Wednesday, July 19, 2023, he declared on UTV in Twi, "If the NPP would go into opposition or break the 8, it depends on this meeting which would be held tomorrow, July 20th."