The embattled Finance Minister Ken Ofori-Atta is expected to be fired by December 31, 2022, according to Andy Appiah Kubi, a legislator representing Asante Akim North in the House of Representatives.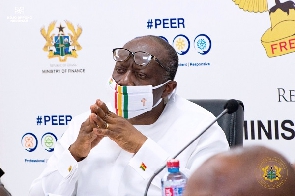 He acknowledged that the group of more than 80 MPs attended a meeting where President Nana Addo Dankwa Akufo-Addo pleaded with them to hold off on asking for the dismissal of Ofori-Atta until two pressing concerns had been resolved.
In an interview with Accra-based 3FM, he stated that they had been informed that Ken Ofori-Atta would complete Phase One of his duties for the International Monetary Fund by the following week and that his work on the budget and appropriations would be completed by December of this year, at which point he would leave office.
"…personally, I took the president's statement to mean that he would follow our instructions when the problem was resolved. The first part of the IMF program, which is essential for our fiscal preparations, will finish next week, but the entire program will end in April.
"The idea is that he would fulfill our request at the end of the first phase and the conclusion of appropriation, which is in December. He will give and take, but the maximum he can do is in December right before Christmas.
So, he continued, "we train our minds to expect it to happen no later than December 31, 2022, all things being equal."