Bawumia, a member of the Hogbetsotso Committee, received jeers for mentioning nonexistent projects.
Vice President Dr. Mahamudu Bawumia was jeered during the celebration in Anloga, Volta Region, on Saturday, November 5, 2022, according to Agbotadua Kumasah, a member of the Hogbetsotso Planning Committee, because he alluded to government initiatives that never materialised.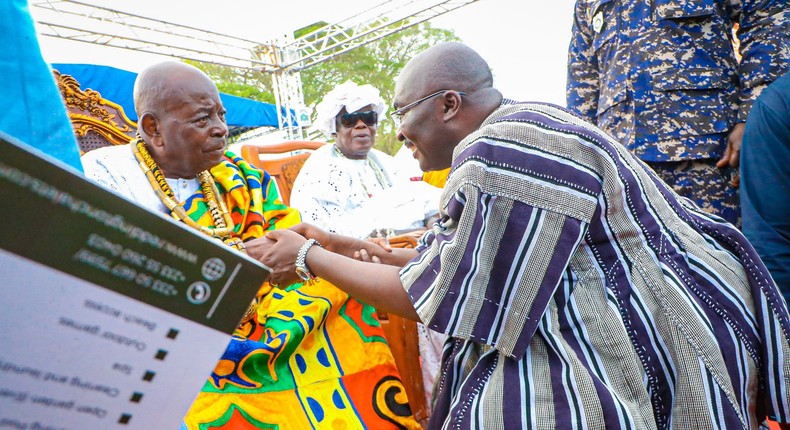 Togbe Sri with Vice President Dr Mahamudu Bawumia
At the Hogbetsotso festival, Dr. Bawumia received jeers in protest of some of the projects he listed.
He claims that the Fourth Republic's NPP-led administration, led by President Nana Addo Dankwa Akufo-Addo, has produced the most job growth.
He said that compared to other governments, the government had built the most schools, interchanges, airports, and harbours.
However, Kumasah confirmed to JoyNews that prior to the entrance of Dr. Bawumia and his entourage, the populace was warned against "embarrassing any invited dignitary."
At Hogbetsotso, Vice President Dr. Mahamudu Bawumia was joined by various government representatives.
He claimed that when the Vice President started outlining the fictitious accomplishments that the NPP government claimed to have made, the audience lost control.
"People cheered the Asantehene and Kwahumahene when they spoke. Bawumia remarked of the harmony between the Anlos and the Asanteman when he first began to speak. The crowd was cheering for him and enjoying themselves. However, the trouble began when he brought up the economic climate "He declared.
In addition, Kumasah noted that "the people who were there did not see the roads, airports, and universities he was referring to so that brought some agitation and it became very difficult to control the people because none of what he was saying happened in the area." Dr. Bawumia mentioned among projects the government has built including airports and roads than any other government, Kumasah said.