A portion of the audience at the Saturday, September 24, 2022, international entertainment extravaganza staged at Black Star Square in Accra booed President Nana Addo Dankwa Akufo-Addo.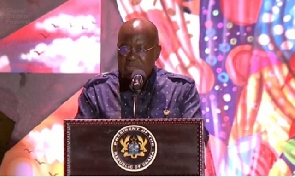 Numerous local and international artists performed during the Global Citizen festival, which drew thousands of spectators to the location.
The president was asked to speak as the event's host, and he did so by delivering a prepared statement that lasted for more than six minutes.
The audience began to jeer as he declared, "The world is in Ghana today."
Even though there was great applause and chants of "away, away," which had initially been individuals objecting to the president's presence on stage, the president persisted and finished his address.
As if that weren't bad enough, the president was made fun of on social media by others who seized on the news
Watch how the booing started:
See some social media reactions below:
About the Global Citizen group and its festival
The largest group of people taking action and creating change in the globe, Global Citizen is committed to putting an end to extreme poverty NOW.
By taking daily action, millions of Global Citizens from all over the world are raising their voices and enacting long-lasting change in the direction of sustainability, equality, and humanity.
The Global Citizen Festival began as a music festival where attendees may obtain free tickets by doing actions to reduce extreme poverty.