In Qatar, some Ghanaian football supporters were detained for attempting to resell World Cup tickets.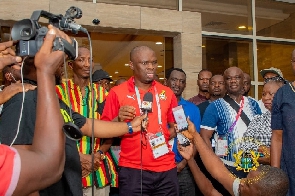 This was revealed by the Minister for Youth and Sports, Mustapha Ussif, on Tuesday, November 29, 2022, when he visited the Ghanaian contingent that had travelled to Qatar to support the Black stars in the ongoing World Cup along with the Ambassador of Ghana to Qatar, Mohamed Noureddine Ismail, and some security personnel.
In his address the Minister took the chance to convey his profound gratitude to the delegation for the unwavering support they had shown thus far in Qatar to the supporters at the Al Madaen apartment in Doha.
Mr. Ussif observed that the Ghanaian economy was in serious trouble, which is why he made the decision to make an appeal to people and organisations for support in the form of donations and sponsorships to help cover some of the costs associated with the Ghanaian delegation.
A few Ghanaians have been detained and taken to prison for selling tickets they were given to enable them to join the event, he further pleaded with the fans not to go out and sell the tickets they had worked so hard to get for them.
The Ghanaian delegation's conduct thus far has been praised and urged to continue showcasing Ghana's rich culture by the ambassador of Ghana to Qatar.
A security expert with the Ghanaian police force, Mr. George Mensah, also congratulated the fans and urged them to carry on acting in the manner they have so far.
He continued by saying that they were there to ensure the delegation's security at all times.