Despite the ongoing depreciation of the Cedi, Finance Minister Ken Ofori-Atta has reassured Ghanaians that the country's economy is doing well.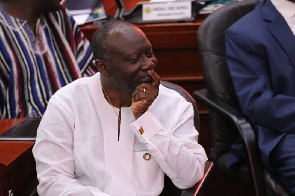 Speaking to an Asaase Radio journalist in Accra from Washington, where he is in charge of a team negotiating with the IMF, the Minister called the devaluation rate "perplexing."
However, he issued a warning against those rushing to buy dollars, calling such an action "unnecessary" and one that would ultimately put pressure on the cedi.
He described the typical yearly inflows into the economy and pointed out how a key pillar—the two billion dollars from the capital markets—was missing in 2022.
When asked about the devaluation of the cedi, he said: "It is quite puzzling since, as you know, normally we go to markets at the beginning of the year and receive our two billion.
"However, since we were unable to do so, we were able to stabilize it in the summer, around August, with US$750 from AfriExim. Then, as is customary, we went on to the yearly syndicated loan of COCOBOD (ASL), which came in strongly.