Asamoah Gyan and his attorney, Edwin Kusi Appiah, have launched a media tour in response to the Accra High Court's decision in his marital annulment case. They believe that the verdict's significance has been purposefully misrepresented.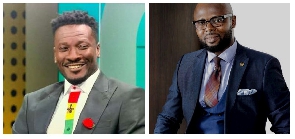 On Wednesday, November 1, 2023, Asamoah Gyan made his first appearance in the media over the situation. He spoke with Asempa FM and warned his ex-wife to call and demand that the people attempting to change the story be stopped.
Gyan has also been active on social media, answering comments he believes misrepresent events.
On the other side, his attorney has been making outrageous claims about the case while on a media tour to promote the decision. He has been to more than five media outlets.
These five are listed below:
Speaking with his ex-wife, Asamoah Gyan
During his appearance on Asempa FM, Asamoah Gyan disclosed that he has talked to Gifty Oware and discussed the importance of keeping things civil.
Gyan declared that if the attempts to distort the decision are not handled, he will be forced to come up and reveal information.